The Icelandic Women's Rights Association has published the report Online Violence Against Women in the Nordic Countries by Ásta Jóhannsdóttir, Mari Helenedatter Aarbakke and Randi Theil Nielsen. The report was written in cooperation with Kvinderådet in Denmark and KUN in Norway.
Each country conducted a study of survivors' experience of online violence and their search for protection from and justice for that violence, as well as interviewing police and legal actors who have worked with cases of online violence.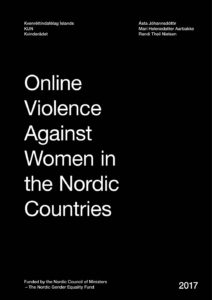 The report is also available for download in an office printer friendly format.
A summary of the study has been published as a brochure, also available via download, in two different versions (online and printer friendly) and four languages, Danish, Icelandic, Norwegian and English.
Download brochure:
The study was funded by the Nordic Council of Ministers – the Nordic Gender Equality Fund, the Icelandic Gender Equality Fund and the Icelandic Ministry of Welfare.