Tatjana Latinovic has been elected Chair of the Icelandic Women's Rights Association. She is the first immigrant woman to be elected chair of IWRA since its founding in 1907.
Tatjana was elected Chair of IWRA at its general assembly on May 6th, 2019. In an address to the assembly, she said: "The Icelandic Women's Rights Association has a 112 year history in fighting for women's rights. I am proud to be given the opportunity to follow in the footsteps of the women who have come before me in leading this organization and I look forward to lead our continuing work for equality for all."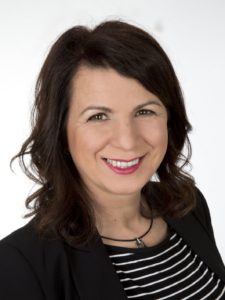 Tatjana Latinovic has served as the Vice-Chair of IWRA since 2015. She has been a human rights activist, focusing on feminist and immigrant issues ever since she moved to Iceland in 1994. She is a founding member of W.O.M.E.N. in Iceland, an NGO for immigrant women, founded 2003. She was chairwoman of the organization from 2004 to 2008 and continued to serve as member of the board until the end of 2012. She also served on the board of Women's Shelter 2004-2012.
Tatjana is a Chair of the Immigration Council at Ministry of Welfare, appointed by Minister of Welfare of Iceland in 2005 (Chair since 2017). She is also a member of Gender Equality Council at Ministry of Welfare, nominated by the Icelandic Women's Rights Association, the Federation of Icelandic Women's Societies and the Feminist Association of Iceland 2017-2020.
Retiring Chair Fríða Rós Valdimarsdóttir joined the board of IWRA in 2011, became Vice-Chair in 2013 and was elected Chair in 2015. IWRA thanks Fríða for her invaluable contributions over the years to the organization and to gender equality in Iceland, and looks forward to working with her in the future
Five women were elected to the board of IWRA at the assembly, Bergljót Tulinius Gunnlaugsdóttir, Eva Huld Ívarsdóttir, Stefanía Sigurðardóttir, Helga Baldvins Bjargardóttir and Hjördís Guðný Guðmundsdóttir. Other members of the board remain Ellen Calmon, Helga Dögg Björgvinsdóttir, Hildur Helga Gísladóttir and Steinunn Stefánsdóttir.
At the general assembly, Dagný Ósk Aradóttir Pind, Katrín Júlíusdóttir, Sunna Gunnars Marteinsdóttir and Vilborg Ólafsdóttir left the board. IWRA thanks them for their service.