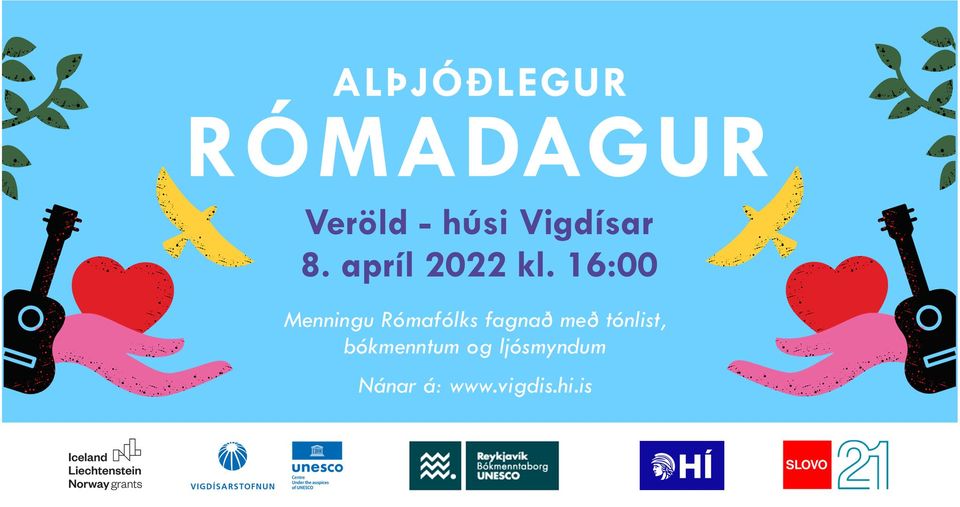 Celebration of the International Romani Day will be organised for the first time in Iceland on 8 April 2022 with a programme that highlights the literature and culture of one of Europe's minorities (Roma/Gypsies) that has suffered centuries of discrimination and that also have a history of presence in Iceland. Romani authors, musicians and activists from the Czech Republic are participating.
The event is free of charge and everyone is welcome.
Programme:
16:00 Sunday Dinner and Other Roma Stories – literary discussion (in Icelandic).
Sunday Dinner and Other Roma Stories is the first collection of Romani stories published in Icelandic. Excerpts from the book will be read and the works discussed.
Participants: Ásdís Rósa Magnúsdóttir and Guðrún Kristín Jónsdóttir, editors and translators of the book, Ilona Ferková and Eva Danišová, Romani writers, Þóra Hjörleifsdóttir, writer and poet and Stefano Rosatti, teacher of Italian literature. Moderator: Guðrún Kristinsdóttir.
17:00 Refreshments
17:30 Romani music and opening of photography exhibition (in English).
Formal opening and presentation of the award-winning exhibition Invisible Power and musical performance by the Romani band Bachtalé.
Participants: Jelena Silajdžić, director of Slovo 21, Tatjana Latinovic, president of the Icelandic Women's Rights Association, Vojtěch Lavička, violinist, composer and Roma-activist, and the band Bachtalé. Presenters: Izabela Chalupníková and Sofiya Zahova.
The programme is organised as part of Gendal´ipen // Reflection project implemented by Slovo 21 in partnership with Vigdís Finnbogadóttir Institute with the support of EEA Financial Mechanism 2014-2021, Programme Culture.
The event is part of the Vigdís International Centre´s calendar of events in the framework of the International Decade of Indigenous Languages 2022-2032 (IDIL 2022-2032).