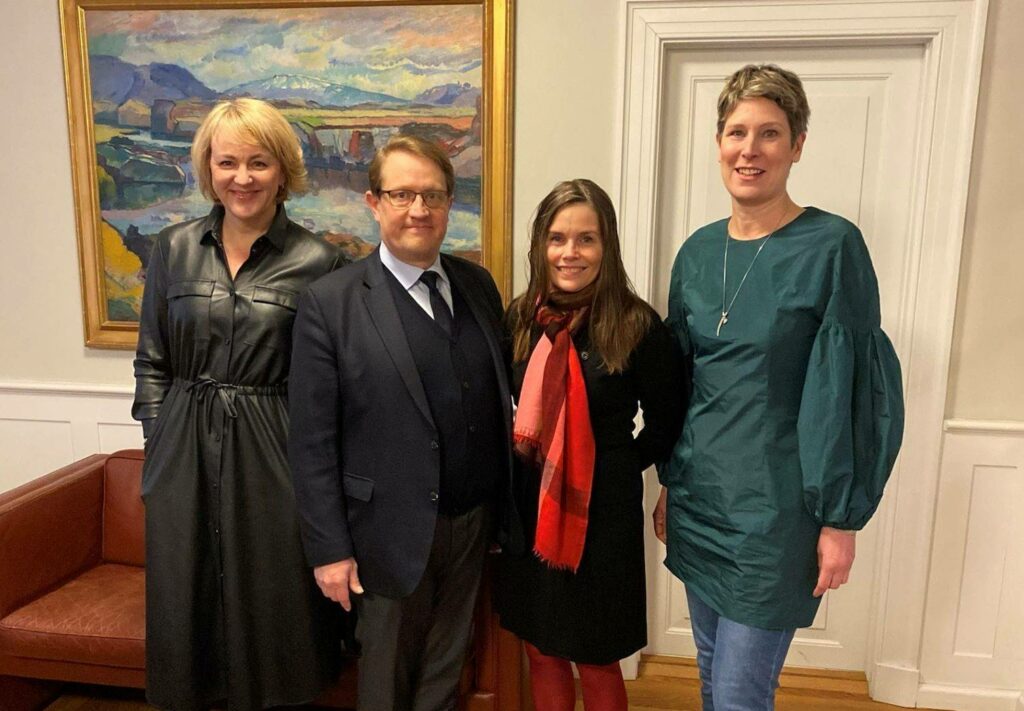 Hanna Birna Kristjánsdóttir, Chair of the Reykjavík Global Forum Board, Birgir Ármannsson, Speaker of Althingi, Katrín Jakobsdóttir, Prime Minister of Iceland, and Silvana Koch-Mehrin, President and founder of WPL signed a declaration of cooperation today.
This is a continuation of a collaboration between the government, the Parliament and the international women's organization Women Political Leaders (WPL) to hold the Women Political Leaders Global Forum in Iceland from 2023 to 2025.
In February 2018, the same parties agreed to hold sessions in Iceland annually from 2018 to 2021. An agreement was reached on the government's annual contribution to the project during the contract period, which is divided equally between the Prime Minister's office and the parliament. It was decided in 2021 to extend the co-operation in 2022 with an unchanged financial contribution from the government, and now extended to the year 2025.
The Women Political Leaders Forum has been held in Reykjavík for the past four years with the participation of Icelandic and international partners, in addition to which Mrs. Vigdís Finnbogadóttir, former President of Iceland, has been its patron. International women leaders from politics, business, culture, science and technology are invited to the forum. The next forums will be held in Harpa from 8 to 9 November.
The Women Leaders Global Forum is co-hosted by the Government and the Parliament of Iceland and Women Political Leaders (WPL), and co-chaired by leaders of OECD, World Bank, World Economic Forum and others. The 2018 forum is the first of its kind and will be held annually for the next three years. The Women Leaders Global Forum's mission is to provide a platform where women leaders discuss and share ideas and solutions on how to further advance society, increase equality between women and men and promote and positively develop the number of women in leadership positions.
In addition to Women Political Leaders, the Global Forum and the Icelandic government, special sponsors of the Women Political Leaders Forum are; Alvotech, Brim, Deloitte, Eimskip, Empower, Icelandair, Íslandsbanki, Krónan, Landsvirkjun and 66 ° Norður. Special partners are also; Kvenréttindafélag Íslands (IWRA), University of Iceland, Hvíta Húsið, Höfði Reykjavík Peace Center, Vigdís Finnbogadóttir Institute and UN Women in Iceland.
This announcement was first published here.